A prize-winning world-leader in its field, CarbonCure has developed a process that delivers permanent carbon sequestration
When it comes to career goals, Jennifer Wagner's are certainly ambitious. President of the Halifax, Nova Scotia-headquartered CarbonCure Technologies, Wagner has made her aim nothing less than the removal of 500 million tonnes of carbon from the atmosphere annually by 2030.
If the headline figure captures the attention, what's even more significant is that CarbonCure is planning to do this while operating in one of the world's most carbon-intensive sectors, the manufacture of concrete.
This is no mean achievement. Concrete is the world's favourite building material, and demand is on the rise. According to a recent study by the ClimateWorks Foundation, the mortar and concrete cycle represents approximately 10 per cent of greenhouse gas emissions globally. This makes finding a way to reduce concrete's carbon footprint a major strategy for mitigating climate change.
In January 2020 CarbonCure was the first Canadian company to be awarded the North American Cleantech Company of the Year award by Cleantech Group. And in April 2021 it was declared co-winner of the NRG COSIA Carbon XPRIZE, a global competition that challenges participants to develop breakthrough technologies to convert CO2 into usable products. Wagner was the project leader of Team CarbonCure for the competition.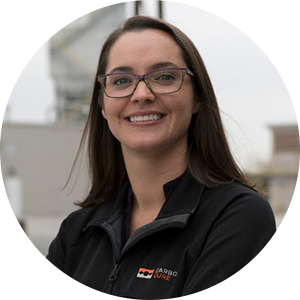 Jennifer Wagner, President, CarbonCure Technologies
What makes us unique is how scalable our solution is, and how it integrates with the existing supply chain.
CarbonCure's technology injects captured carbon dioxide into fresh concrete, where it undergoes a process known as CO2 mineralisation, the CO2 turning into solid, nano-sized minerals of calcium carbonate. Not only does mineralisation sequester carbon from the atmosphere permanently, but it also increases the concrete's compressive strength by up to 10 per cent, enabling mix optimisation – essentially, allowing producers to use less cement in their mixes while still maintaining the concrete's strength and performance. Through mineralisation and mix optimisation, CarbonCure enables concrete producers to save an average of 25lb of carbon per cubic yard (approximately 15kg per cubic metre) of ready mix concrete, and 25lb–40lb per cubic yard of precast concrete.
The chemistry that CarbonCure's technology depends on has been well understood for at least a century, but the way that the company leverages it is distinctive. "What makes us unique is how scalable our solution is, and how it integrates with the existing supply chain," Wagner explains.
As an increasing number of developers and construction companies look to improve their environmental credentials and their environmental, social and corporate governance (ESG) appeal to investors, Wagner hopes that an increase in the demand for greener concrete will shift the market as a whole and, with it, concrete's carbon footprint.
There are already some 350 ready mix concrete plants around the world that use CarbonCure's core technology, and CarbonCure concrete producers have supplied more than 1 million truckloads to sustainable construction projects. Wagner admits that there is still a long way to go: according to her estimation, there are around 100,000 ready mix concrete plants globally.
"When you think about climate change, time is our enemy. We don't have time to grow our business organically; we have a ten-year window in which we need to act," Wagner says. "We'd like to partner with end users to increase the demand for low-carbon concrete, and we'd like to see more preferential procurement for low-carbon concrete by governments."
CarbonCure also hopes to develop a matchmaking process that would see the savings generated sold as carbon credits to investors, and to then share this revenue with concrete producers as an incentive to create more green concrete, thus providing a steady stream of capital that could fund and further the adoption of CarbonCure's technology.
Even though most of CarbonCure's customer base is now outside Canada, Wagner says that setting up the business in Nova Scotia has been a "wonderful experience". "From having access to willing early adopters and high-quality graduate students to support us, it has been a great place for us to start and scale our business," she says. "We've also been fortunate enough to receive support from every level of government."
Starting out, CarbonCure benefited from the support of local agencies such as Nova Scotia Business Inc and, at a federal level, from the Atlantic Canada Opportunities Agency (ACOA), Sustainable Development Technology Canada, and the Business Development Bank of Canada, which provides financing, capital and advisory services to Canadian entrepreneurs and SMEs.
Despite the fertile ecosystem for start-ups in Canada, Wagner says that more must be done to combat climate change before it is too late. "Canadians are very good at innovating, but we need to scale our solutions up if we are going to see impact from an economic and environmental perspective, so that we all benefit."
Back to top